Mabase
(マバセ
?
) is a fictional Japanese city that is very ordinary except for the presence of the giant
Medical Mechanica
building shaped like an iron. Mabase is the main setting of the original OVA series and one of its two sequel series,
FLCL Progressive
.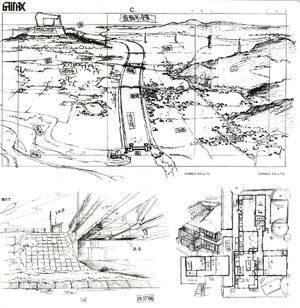 Like most towns and cities, Mabase has schools, businesses and neighborhoods. There is also a large river running through the town, spanned by several bridges and train tracks.
Besides the MM plant, other locations within Mabase include:
Mabase Bridge
Nandaba family home and bakery
Mabase Elementary School
Shinden High School
The Ninamori family home
The Moniwa store
A baseball field
A hair salon
Cafe Bleu
The Masamune family liquor store
Hibajiri family home and Café Hibari
The unnamed high school of Progressive
A garbage dump
Slum neighborhoods
A hospital