The Galactic Space Police Brotherhood, also known as the Fraternity or Galactic Fraternity, is an extraterrestrial organization. Very little is known about this organization other than Haruko claiming that she's a 1st Class Space Patrol Officer, as well as the organization's name being stated in the manga, but not in the anime. It is currently unknown if this organization is a government, a society or just a unified military force; though it is likely at the very least the latter as it's implied that they are at war with Medical Mechanica and they have an apparent military ranking system.
Haruko is sometimes seen talking to Miyu Miyu, first referring to Naota as useless when his N.O. channel doesn't immediately yield results and later trying to convince someone that she doesn't have feelings for Atomsk. She's presumably using the cat to communicate with her superiors; it's possible that this works by using the cat's brain to transfer sound in the same way that Naota's N.O. channel can transfer matter. This is represented again in FLCL Alternative when Haruko is seen demanding confirmation of her message from a pack of small brown dogs by having one bark, which causes all of them to start barking and heightens her frustration with the fickle form of communication.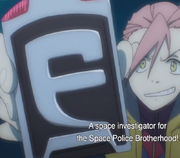 In the anime, the only real presence of the Galactic Space Police Brotherhood is Haruko's communications with them through Miyu Miyu. Haruko does present a badge to Kana in Alternative, though she tosses it aside immediately. In the manga, however, Haruko states that they are "the good guys," but they order an airstrike on Mabase in order to attack Medical Mechanica with disregard for the city's inhabitants. The Galactic Space Police Brotherhood is more ambiguous in the anime, while in the manga, they seem to be malicious or just generally unconcerned with the safety of any innocent bystanders. However, the destruction of Mabase, trapping of civilians, and wide-scale laser attacks from Medical Mechanica as a result of Fraternity's amusement park attack in Progressive shows an increase in this negligent behavior outside of the manga.